In order to provide exceptional patient care, healthcare providers need time with patients. They also need access to the right products and equipment quickly. The medical product supply chain is a complex system that requires coordination from many entities. Each of these entities can have multiple touch points that add further complexities to the process. Getting the right medical products can be cumbersome and time-consuming.
As health systems and acute care facilities respond to the need to provide exceptional patient care in the most efficient manner possible, it's more important than ever to have a streamlined process. To accomplish this, those involved need to work closely together.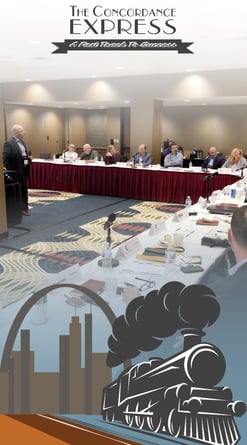 In April, Concordance held our annual Corporate Sales Meeting, which featured a Supplier Summit to provide a forum for our leadership team to work with executives representing some of our key supplier partners.
The objective of the Summit was to determine the best ways to work together to serve our customers and the healthcare industry. Here is what some of the participants had to say:
Brad Goodwin, President, Domtar Personal Care North America
"The Concordance Supplier Summit is a truly unique forum, not because it's rare for suppliers and distributors to meet as a group and share issues, but because the leadership of Concordance truly takes ownership for facilitating an open and frank discussion in the room without hidden agendas. The end effect is a supply partner that feels trusted and truly listened to."
Dick Moorman, VP, Distributor Relations, Midmark
"I had the pleasure of attending the recent Supplier Summit at the Concordance Healthcare Solutions Corporate Sales Meeting. The Summit was an eye-opening experience on a couple of levels. The capabilities and systems they have in place to provide world class solutions and custom designed programs for end users and suppliers across the entire continuum of care are second to none. Yet, they are humble and continue to want to know, 'How can we do better?' The entire time, their executive leadership was digging for ways to improve the experience that both the customers and the suppliers have when partnering with Concordance Healthcare Solutions. They understand one size does not fit all, and their ability to flex and design programs for their customers based on needs is a distinct advantage. Many in our industry use the term 'Partnership' loosely. Concordance knows the true meaning of 'Partnership' and works hard to prove they understand what a real partnership is all about."
Michelle Clouse, VP, Customer Development, Concordance Healthcare Solutions
"I have participated in many of these types of meetings. As I watched how engaged everyone was, I started wondering, when everyone has so many things to do, how do we get executive leaders from these key suppliers to come together in the same room? And why do we all work so hard to advance our partnership? Then, I realized - we all came together for this meeting because we share a common purpose. We passionately believe that having the right products available to patients when they need them can save lives. We understand that our companies play a vital role and we need to be the best we can be. We also understand that we can accomplish more together than we can individually."
Working Together
When reviewing the complexities of your system, there are numerous areas that require focus in order to capture improvements. Multiple processes and touch points, along with the efforts of many people, help make it all work together.
However, the key to creating the most efficient system is communication and working toward a common goal. As suppliers and distributors work to provide the right product at the right time, they can help healthcare providers deliver exceptional patient care.
When distributors and suppliers bring their experiences forward to form new ideas, health systems and acute care facilities can expect several improvements including:
Choice
Customization
Cost Savings
Choice
Many patients have unique needs. As those needs change, hospitals need to have access to a wide variety of medical supplies to ensure they can provide the proper care.
With so many products available, providers do not always have time to research and find the best product. In addition, the product they want may not be available through their normal supply route so the process to get the product becomes more complex. So, how does a hospital ensure that they are using the right products to get the best patient outcomes?
When distributors and suppliers work together with health systems, they are able to understand the unique needs and challenges that each hospital faces. As they focus on aligning their goals around the best possible patient outcomes, they are able to focus on providing the right product and the most efficient way of delivering it.
Customization
Being able to choose the right product is a key component to a streamlined supply chain. Once the product is identified, it's important to determine the best way for the provider to obtain the product. There are many channels and configurations in which a product can move through the supply chain. With so many options, it can be a challenge for a hospital to decide what is best. Additionally, the options available may not exactly fit for what the hospital needs.
As partners, distributors and suppliers can assess the needs and determine the best options. This goes beyond what is already available. As they collaborate, they can develop new ways to support health systems and customize an offering that provides efficiencies.
Cost Savings
Providing customized solutions helps ensure that providers have products when they need them so that they are achieving the best possible outcomes. By working together to streamline product flow, efficiencies can be achieved and wastes can be removed. This creates cost savings and means less time spent on managing the supply chain, which allows more time dedicated to improving patient outcomes.
At Concordance Healthcare Solutions, we are committed to partnering with our key suppliers to bring the highest quality products to health systems and acute care facilities while focusing on choice, customization and the most optimal supply chain. Contact us to learn more.