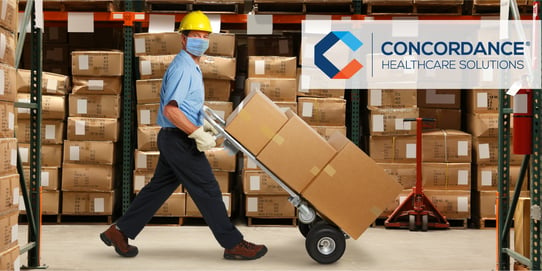 Throughout the pandemic, the country has learned more about the healthcare industry and the vital role each piece plays in the health and safety of our communities. The importance of doctors, nurses and other healthcare professionals has been seen first-hand by many; products like the N95 masks are now household names; the CDC and governmental experts are featured on the news, providing data and trends on COVID-19; Governors are holding frequent press conferences to update their constituents on the current stay-at-home orders for their state. But where do healthcare distributors fit into this picture? What role do they play in the industry?
The Missing Link
Manufacturers develop and create the products that hospitals, doctor's offices and nursing homes use for patient care. The question is, how are the healthcare facilities receiving all of this product from so many different sources?? With thousands upon thousands of healthcare product manufacturers across the world, it is cumbersome and costly to have each individual manufacturer supply product directly to each hospital and healthcare provider – which number over 300,000 in the U. S. alone.

In order to bring efficiency, costs savings and safety to the supply chain, healthcare facilities rely on distributors to source product from manufacturers in large quantities. Distributors then store the product, sort, pick and pack items based specifically on customers' individual orders and desired quantities, delivering to each facility neatly and timely.
This distribution model is used in many industries, but it is often overlooked. For instance – imagine if getting groceries required that you go directly to the butcher, a baker, a dairy, an egg farm and the assortment of different processing plants needed to fill your cabinet and refrigerator. Instead, to efficiently distribute food, grocery stores offer a wide range of different foods, from bread and meats, to fruits and frozen foods. These items are sourced, in bulk, from a variety of growers and processing plants and then placed on the store shelves for individuals to purchase what they need. This provides a quick, easy, effective way for each of us to gather the food we need to feed our families.

In the same way, healthcare distributors offer hospitals, physicians, long term care facilities and medical centers across the care continuum, the same ease and effectiveness when ordering medical supplies.
Logistics Expertise
Managing inventory for a healthcare provider requires a multitude of components that most medical facilities are not equipped to maintain on their own. Distributors create efficiencies and cost savings within the healthcare industry by providing these five things, among a large variety of other services and solution:
Ample Supply Space: To offer optimized patient care to clients and the general public, providers need to ensure that their facility has access to the right products when they need them; on the other hand, they also need to ensure that bulk products are not taking up or congesting their clinical space. With large warehouses for bulk ordering and by offering LUM programs, distributors streamline supply processes while reducing both costs and product inventory.
Product Rotation: To ensure that products are not damaged, expired or fall into obsolesces, they need to be properly rotated, stored and evaluated on a regular basis. Healthcare providers would need to increase supply chain staff significantly in order to adequately meet the needs of housing a large inventory. Instead, distributors are able to keep stock properly rotated, checked and maintained throughout their warehouses, without adding full-time employees to the provider's overhead costs.
Quality and Recalls: Ensuring the product and the supplier are properly vetted for quality and compliance with FDA regulations is a time-consuming effort. Distributors offer expert professionals that focus on sourcing only the highest quality products for their customers. They also efficiently track and communicate any product recalls that may occur throughout the market.
Data Analytics: Tracking spend, identifying inefficiencies and reviewing purchasing trends can greatly increase the effectiveness and cost-efficiency of a healthcare provider's supply chain. Distributors offer the data analytics and reporting processes that are required to deep-dive into spend and uncover cost-savings opportunities.
Pricing Accuracy: Offering multi-year contracts with healthcare providers, med/surg distributors not only provide costing and service predictability, they are also able to track and manage pricing changes, discounts, rebates and other cost-reduction opportunities through their strong relationships with the vendor and GPO communities.
Critical Response
Distribution plays a vital role in crisis response for healthcare providers across the country. Understanding their customers' purchasing trends, having records of order histories and collaborating on emergency preparedness processes, distributors are able to offer a variety of additional safe guards and services during times of disaster and pandemic. Some of these include:
Automatic reorders in the event of communications failure due to natural or man-made disasters.
Automated tracking of inventories, average usage rates and other analytics to ensure that proper product levels remain intact.
Identification of appropriate product substitutions.
Automatic item substitution for critical items if necessary.
Vetting and onboarding of new suppliers and products.
Expedited shipping and delivery to hotspots.
Alternate delivery routes in case of weather or natural disaster-related detours.
Sequestered products for pandemic/disaster usage based on customer program enlistment.
Doing More than Ever Before
The intricacies of the healthcare supply chain are many and the challenges that have arisen with the current pandemic have caused strain on the industry; however, healthcare and med/surg distributors continue to offer solutions, add efficiencies and create effectiveness in the ever-changing market place.
Sourcing product and providing the highest quality items to healthcare facilities is the core of what distributors do, but the additional services, solutions and expertise that these organizations add to the market are simply invaluable.
Find out more about what Concordance offers all healthcare providers across the care continuum.