Account managers and sales leaders set the tone for success. They provide immeasurable value to the work of Concordance in our mission to serve the entire healthcare continuum. From stand-alone hospitals to integrated delivery networks and large health systems, acute care providers strive to deliver the highest quality of care to achieve the best patient outcomes.
Everyone visits a hospital for different reasons; the passing of a loved one, the birth of a child, routine appointments and the occasional accident. Acute care providers need a streamlined supply chain managed by a responsive and accountable distribution partner. We sat down with one of our account managers to learn more. Andrew Ilch has been a part of the Concordance Healthcare Solutions family for nine years. Check out his interview below:
How long have you worked in healthcare?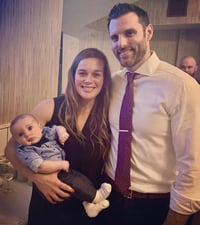 "I've worked in healthcare for over 10 years, in pharmaceutical and distribution sales."
How did you get interested in the field?
"I thought I wanted a career in finance so I took an internship right out of college. I quickly realized the 9-5 desk life wasn't for me. When it came to sales, I always thought pharmaceutical sales had the best opportunities. People told me I couldn't do it which pushed me to prove them wrong. I started selling a blood pressure medication, but I didn't like being confined to a small territory with a fixed career trajectory. The father of one of my friend's was very successful so I went to lunch and told him my frustrations and he pointed me towards Concordance and helped with introductions. I decided to make the change, I applied and was hired."
What do you do for Concordance?
"I'm a Senior Account Manager in New Rochelle, New York. I run one of the bigger territories in the New York City area. I answer the phone when it rings, [even on a Sunday] and I still look forward to work on Monday with a genuine smile. My conversations are very upbeat and I take pride in being helpful."
How has your career evolved over the years?
"Things have evolved from the importance of knowing your data, to actually knowing your customers more as people and less as data points. I knew where I wanted to be when I started, but getting there was a bit of a grind at first because I wasn't as experienced. I took a step back and considered, logistically, what I could accomplish and how I could be successful. I was able to carve out a service and I loved being able to help customers who were unhappy with their current service from other distributors. I built upon my successes and established trust. While people may have moved or changed jobs, they made introductions so I could continue those professional relationships."
What is your favorite part about your job and working for Concordance?
"Problem solving - definitely! It's not about when things are good, it's about handling difficulties with grace and delivering beyond expectations. From helping a prime vendor to serving a small surgery center, I'm here to help and I genuinely mean that from the bottom of my heart. I've been the guy in the waiting room, so I know how important it is when someone needs 10 cases of sodium chloride for a surgery patient. I appreciate the need for products because I know they end up helping someone who is sick."
What is important for sales account managers to remember?
"Attitude and temperament. This all goes back to problem solving. The core characteristics of my job don't change. The account manager makes a tremendous impact on the relationship between a distributor and customer.
What do you want to see more of in the future?
"I'm excited to see more inspiration from our new leadership!"
What makes Concordance unique?
"Our culture is unique for each distribution center. I like the regional feel of each office. For example, our Tiffin, Ohio, office has great camaraderie with inspirational people all working for a good cause – it's contagious! I'm excited to be a part of the process in building the culture and community of our organization because community is a huge part of my life."
Why is community so important to you?
"When I was young and just starting out in my career, I studied how successful people spent their mornings. This led me to join a CrossFit gym. I start my day with a 5:30 a.m. workout and it has been the most impactful change that has set me on the right course. I like the community aspect of CrossFit and how it has helped me mentally prepare for each day."
What makes Concordance a superior distribution partner?
"From bulk distribution to low unit-of-measure, integrated service centers or custom hybrid solutions, Concordance designs the supply chain model that provides the most optimal platform of efficiency, innovation and exceptional service."
Concordance Healthcare Solutions works directly with your supply chain management and leadership teams to understand the complexities of your unique supply chain process. Our team of experienced professionals delivers ongoing, measurable improvements that increase efficiency throughout every level of the supply chain.