Concordance Healthcare Solutions, formed in 2016 through a merger of three healthcare distribution companies, is still in the developing stages of life. Make no mistake, the solid foundation of efficiency and service excellence that was built by our legacy companies (Kreisers, MMS and Seneca Medical) remains unwavering. Still, we continue to establish our place in the industry while growing our relationships across the country. In order to truly become one company, one culture and one successful organization, we are continuing to learn from one another and are adjusting internally.
Growing Out
Much like the first years in a child's life, Concordance has grown substantially in the last 36 months. By streamlining existing locations to gain the most efficiency and costs savings possible, we have increased our service capacity through our already established footprint. Concordance has also branched out into new areas of the country, stretching further west and further south, bringing our business model to the majority of the continental United States.
"New opportunities have arisen across the country," reveals Lisa Hohman, Chief Strategy Officer (and future CEO) of Concordance. "It reinforces the positive reaction our merger has had on the industry and reconfirms our belief that the U.S. healthcare market needs a service platform that is based on aligned goals and objectives, centered on best practices and great patient care."
Ida-home
Our first major move west brought Concordance to the city of Nampa, Idaho, near Boise, where we built a new 90,000-square-foot distribution center to call home, giving us the ability to service a new customer and a new region.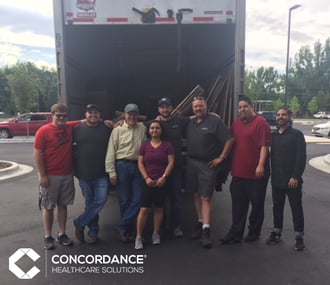 A unique relationship with St. Luke's Health System, a large, highly successful system in Boise, is what spurred Concordance to cross the Rocky Mountains during the last quarter of 2017. "St. Luke's vision, mission and values are very similar to ours and when we walked through their facilities and met their supply chain team early on in our relationship, I could clearly feel a connection between our cultures." Dave Myers, Chief Operating Officer for Concordance continues, "It's a powerful factor having a connection between our collective employees with a joint focus on driving innovation and ongoing process improvement. It's a partnership, and our people who interact each day make the success of both organizations possible."
Adding almost 50 jobs to the local economy, Concordance has uncovered some amazing talent in the Nampa area. "Being a part of a new distribution center, equipped with primarily new employees and an entirely new customer, has had its challenges," admits Jeannine Sampo, Customer Service Supervisor in Nampa. "However, those challenges were not met alone. From our VP of Operations cleaning restrooms to our COO practically taking up a second job as a pizza delivery man to keep us all going, our team here in Nampa was consistently met with support, appreciation and a true look into what it means to be a Concordance employee."
"We have created a strong team here in Nampa, all working toward the same goals," maintains Sampo. "Although we may be spread across the country, constantly growing and producing new distribution centers, the Concordance culture has traveled to each and every new facility; Nampa is proof of that.
California or Bust
Shortly after our Nampa facility was up and running, Concordance leveraged our already established location in Long Beach, California and was able to springboard into the acute care space by taking on another brand-new customer – Loma Linda University Medical Center. The addition of yet another large, unique and highly respected healthcare organization required Concordance to expand our California footprint into an additional location in Riverside, just outside Los Angeles. This 125,000-square-foot facility, which opened in July of this year, is home to over 40 employees and is expected to see much growth in the coming years.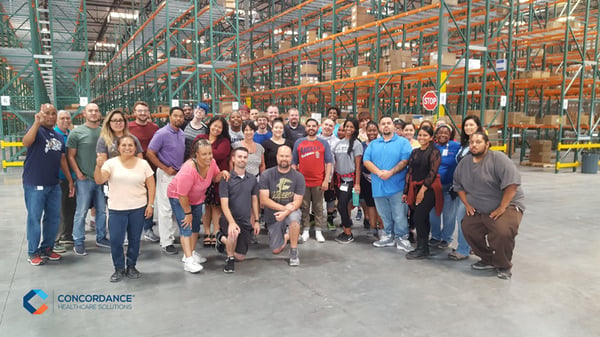 "Striving to find the right employees is very important as we continue to grow as a company," states Sara DeMonte, Human Resources Manager for Concordance, "Doing our due diligence to pre-screen candidates, arranging follow up interviews and having the proper people in place to conduct those interviews all plays a part in the process. Finding people with the right skill set is important, but just as important are finding those new employees who fit within the culture of our company as well. At the end of the day, the reward of placing people in positions that will help them grow as individuals, while also helping the company grow, that is what we all look forward to as a team."
One of the many newcomers to Concordance is Jos Roach, Senior Account Manager in the Riverside area. Extremely familiar with the southern California marketplace, Jos, along with the entire Riverside team, has been a welcomed asset to Concordance.
"With the addition of our new facility in Riverside we are in a great position to grow with healthcare institutions that are looking for a new approach in the region," states Roach, who goes on to explain, "Together, Loma Linda University Medical Center and Concordance have created a flexible and exciting world class supply chain. It's truly a different approach. A model of transparent goal alignment where people are managing systems, not systems managing people, as is so common in the marketplace today."
Josh Lund, Assistant Vice President of Supply Chain Management at Loma Linda is also excited about our approach and about our new relationship, stating "We appreciate all Concordance has done to make this [conversion] a success! I am so encouraged that good people and legit companies still exist. I am so impressed with the level of service your team has provided our hospital."
It is this high level of service that we at Concordance strive to provide across the country and across the care continuum.
Taking it to Texas
Progress and growth within Concordance does not only happen within the acute care market. We are very much focused on providing our high level of service and flexibility to every class of trade and have most recently invested in the state of Texas. Earlier this year, we added sales professionals throughout the state with an emphasis on the post-acute care provider segment; skilled nursing, long term care, home health and hospice organizations. To support the existing accounts in the state, as well as new accounts brought on in the last several months, Concordance will open a 33,000-square-foot facility in Grand Prairie, Texas by the end of August.
"As always, our team has stepped up to another challenge, ready to bring Grand Prairie into the fold," says Myers. "This new facility means the addition of more resources to our team and that's a really exciting accomplishment for all of us. Our new customers are seeking a business partner like us. We will continue to follow our customers and we will continue to grow in all care segments."
Stay Tuned
In order for Concordance to follow our customers and continue our outward growth, we must also grow up, always increasing and improving upon our sturdy foundation of service. Check back next week for more details on how our company is focusing our efforts to be more efficient and more effective in everything that we do.
At Concordance Healthcare Solutions, we pride ourselves on providing the most responsive and committed customer service in the industry. We have the capacity to service the entire United States. Check out our current geographies and contact us for more information. We look forward to learning how we can help you!