Cheer. What is it?
Is it a shout of praise or encouragement? Is it a sense of lightness in spirit or mood? Is it a distinctively optimistic sense of being? Or is it just a brand of laundry detergent? In whatever case, cheer is a five-letter word that we hear a lot this time of year. At Concordance, we're committed to cheer - from cheering with our employees to cheering on our supplier partners. This holiday season, learn the many ways Concordance employees spread holiday cheer to their families, friends and communities.
Hannah Wise – Software Trainer
"I love this time of year! I do a couple things to help spread holiday cheer. The other day, I was in line at Dunkin' Donuts and I asked the cashier to put the order of the couple behind me on my tab. Seeing them smile was a true gift to me! I also usually give service workers (like restaurant waiters) a hefty tip during the holiday season."
Kevin B. Davis – Corporate Account Manager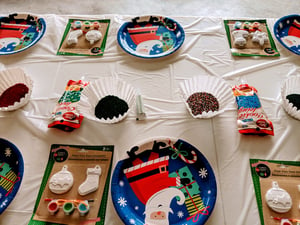 "My family does so much, my wife and daughter are really involved this time of year. From leaving extra cash at the register for someone who might need it, to adopting local families and providing what they need to make the season bright. This year we're also putting together stockings for local nursing homes! One of my favorite things we do is an annual cookie and ornament decorating party for the kids. They love having the freedom to decorate their cookies and ornaments as they like. Also, eating the cookies is fun for everyone."
Kim Smith – Customer Service Supervisor
"My church has a tree where we all pick a bulb ornament with the name of a child and a small list of gift suggestions. I also occasionally like to pay for someone's food in the drive-thru; I love making someone's day by buying their coffee at Starbucks!"
Pam Wescott – Corporate Project Manager
"My sister and I donated almost 20 new blankets and beds to our local Humane Society. Puppies and kitties need cheer too!"
Renee Ribolzi – Regional Sales Coordinator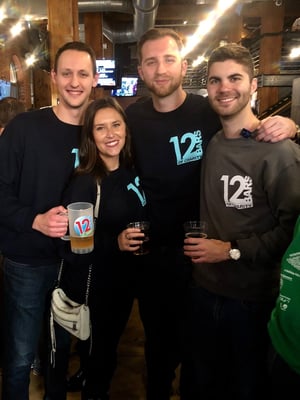 "12 Bars of Charity is an annual bar crawl that benefits eight different charities in St. Louis from Stray Rescue of St. Louis to the Make-A-Wish Foundation. My friends and I make it a point to attend each year, not only to get together before the holidays but to also help raise money for those in need. For every ticket purchased, a portion of the cost is donated to a charity of the participant's choice. You are also given a specific colored sweatshirt to show what charity you chose, which is always fun to see what everyone selected! This year, I chose to donate to St. Jude's Children's Hospital Research because I lost both of my grandparents to cancer. Any foundation trying to understand, treat and defeat cancer is an important one to me. Donating to this event was our way of spreading holiday cheer. So far, this event has raised over $22,000 for St. Jude's and even though my donation is only a small portion of that, it still makes me so grateful that there was an opportunity for me to help during this holiday season."
Michele Terry – Finance Accountant/AP Supervisor
"I am a firm believer in helping others in need. I assist my church in providing free clothing, cooked meals and pantry items. My church opens its doors as a shelter a few days each week when the temperatures are at the freezing point. We also provide free tutoring, counseling and GED preparation. This holiday season, I assisted in providing a free hot meal for Thanksgiving, as well as a sock drive that many of my fellow Concordance employees contributed to, helping us reach our 500-sock goal! For Christmas, we will be giving away gift baskets to families in need. These baskets will include a laundry basket, socks, hygiene products, laundry products, toys for the children, gloves and hats all wrapped up in a cozy blanket."
In addition to the individual acts above, some of our distribution centers worked to spread cheer in other ways. The Earth City, Missouri, staff held a Toys for Tots™ drive collecting dozens of toys for local area children. Employees in Tiffin, Ohio, also kept children in mind as they collected 170 stuffed animals for local area foster children.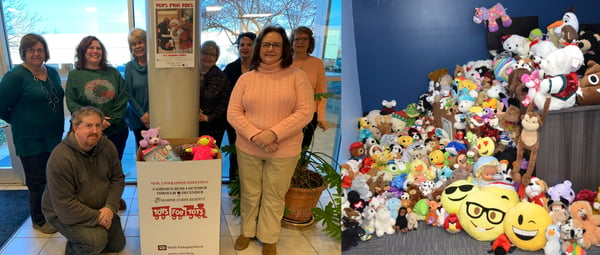 Employees throughout our Tiffin location also celebrate the holidays each year by adopting a local family in need. Our employees work with these families to create a list of items that they truly need as well as items that will make the holidays a little more special for their children. This year the Tiffin location has been working with a family of eight who recently lost all of their belongings in a house fire. Our employees have graciously donated an abundance of blankets and toiletries, gas and grocery cards, along with toys, games, boots, coats and clothing to help this family feel all the blessings the holiday season has to offer.
In addition, Tiffin employees have also teamed up with a local organization that sends gifts to our troops stationed overseas. For the last several years we have supplied boxes and packing materials needed to get these packages to our troops so that they know we're thinking of them throughout the holidays.
Concordance Healthcare Solutions supports those who continue to provide quality care, even around the holidays. Because we know healthcare never stops, we never stop helping. Contact us to learn more about how we can help you this holiday season and all year round. Here's to a New Year full of cheer!