Imagine you're fast asleep in bed all snug and warm. Then it happens, the alarm blares at 5:00 a.m. You roll yourself out of bed, stumble around the room to find your running shorts, socks and shoes before heading out the door. You sleepily exhale, seeing your breath in the cool morning air. Before your brain even has time to think about your day, you've hit the ground running; literally. You put one foot in front of the other as you propel yourself towards your destination and before you know it, you've put in your morning miles and you're ready for the rest of the day. This is Concordance account manager Lisa Welbourne's reality.
Running is considered one of the most accessible sports largely touted for its cardiovascular, mental health and weight loss benefits. Today, in honor of Global Running Day, we sat down with Concordance account manager and running enthusiast Lisa Welbourne to discuss her passion for running marathons and to find a little running inspiration. This day is a celebration of running and encourages others to stay healthy by getting moving. Ultimately, it doesn't matter how fast you run, jog or even power walk, what's important is being active.
Step by Step
She pounds the pavement at the odd hours of the day, racking up miles in preparation for upcoming marathons. "I fell in love with running 20 years ago and I've been doing it ever since," says Welbourne. She continues, "like seems to be the best adjective because some days I love it [running] and other days I hate it. But you see, I set this crazy goal a few years ago to run a marathon in each of the 50 states and dammit I'm guess I'm going to do it."
Welbourne's perseverance has held strong over the last couple decades as she has completed 45 marathons in 45 states to date. "I ran my first marathon in 2003 in Chicago. As I was training, I told myself it was going to be one and done; a mark-it-off-the-bucket-list item. Instead, two days later, after I could walk normally again, I decided to sign up for the Walt Disney Marathon." Just think about it, who wouldn't love to run through Cinderella's castle? Soon after, Welbourne admitted to getting addicted to her cardio hobby.
50 States
So where did this goal of running a marathon in every state come from? Welbourne's mother gave her an article about runner Steve Boone who founded the 50 States Marathon Club. Boone, a computer systems designer, started running marathons in 1988 after a friendly wager with one of his customers prompted him to enter the Houston Marathon as a 39-year-old running novice. Sure enough, Boone finished the 1988 Houston Marathon and has returned to the race every year since.
"I was amazed and inspired by his story. He and his wife completed hundreds of marathons. In order to become a member of this club you had to run a marathon in at least 10 different states, so I made that my goal. After 10, I thought, I'm sure I will never run a marathon in each of the 50 states, but as long as I keep marathoning, I will only run in a new state," said Welbourne.
In the Long Run
Welbourne enjoys many aspects of running from stress relief, to the strength benefits as well as the camaraderie that comes from the running community. "I'm beyond blessed to have a family that supports my dream. We've traveled to many places that we otherwise would have never ventured to. I have some amazing supportive friends who have sacrificed their Saturday mornings [and toenails] to run with me and I've made several new friends, too. And I have to say fellow runners are really nice people."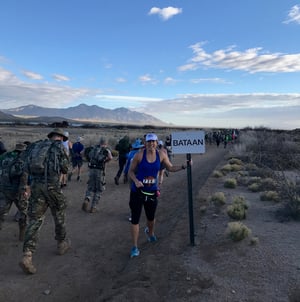 While Welbourne isn't the fastest runner, she's thankful her body allows her the privilege to run and complete each marathon. She walks away from each completed marathon with something new. "I often get asked which marathon has been my favorite and it's really impossible for me to say. There have been so many favorite moments. The start of the Oklahoma City Memorial Marathon was very moving as we observed 168 moments of silence in honor of each victim of the 1995 bombing. I ran right by a moose in Alaska. I was so touched running the Blue Mile in the Marine Corp Marathon in Washington D.C. where photos of fallen soldiers are displayed on both sides of the street. I also had the extreme honor of meeting a survivor of the Bataan Death March at a marathon in New Mexico."
As Welbourne's goal keeps her pounding the pavement, and her 5:00 a.m. alarm clock, she is quickly approaching the finish line. After completing the Maratha's Vineyard Marathon last month in Massachusetts, Welbourne has her eyes set on the final 5 states: Colorado, Hawaii, Idaho, New Hampshire and Rhode Island! She already has plans to run the Mesa Falls Marathon in Idaho this August which will put her yet another step closer to completion. For Welbourne, this hobby also serves as daily inspiration for her career. "Physical fitness isn't a sprint, it's a marathon just like my job isn't just a job, it's a career that takes dedication. Whether I'm running around serving my customers or running towards a finish line, my focus is always on the end goal."
Be sure to check out Lisa's fitness profile on our new Instagram account.