In late 2017, Concordance Healthcare Solutions moved westward to the city of Nampa, Idaho, and built a brand new 90,000-square-foot distribution center (DC) near the state capital of Boise. We added sales professionals, logistics experts and other warehouse employees, fortifying our new Idaho home, allowing us to service a new customer in a new territory with the highest level of service and flexibility that is Concordance. Our expansion into Idaho, and other geographies, were embraced with remarkable industry support as well as support from the Concordance team across the country.
St. Luke's Health System, our new and like-minded Idaho based customer, is dedicated to being their community's trusted partner in providing exceptional, patient-centered care. Concordance felt kindred, linked by a similar vision focused on becoming a trusted advisor through our dedication to the tenants of respect, innovation and operation. Our Nampa expansion is just one step towards where we need and want to be in the future, helping healthcare providers save money, increase efficiencies and provide exceptional patient-centered care. We caught up with Sonya Kimmet, Director of Supply Chain Services in Nampa, to learn more about the ins and outs of our Pacific Northwest DC. Check out her interview below:
Describe your professional background?
"I have a degree in retail merchandising. It took me a while to find what I wanted for my career because I wanted to do something more impactful, something that made more of a difference in the world. This led me to Concordance."
How long have you worked in healthcare?
"I've worked in healthcare for the last 10 years, after joining the Concordance family in 2009. I started in my hometown of Tiffin, Ohio. At the time, I had just moved back home from Fort Bragg, North Carolina. My husband was deployed to Afghanistan and so I moved back home to get things settled for the year while he was away."
What led you to Nampa?
"While with Concordance, I've worked in non-acute, acute and in new business development. In 2015, I had the opportunity to join the new customer development team and in July 2017, discussions began about a potential opportunity out west. They needed someone who knew the business, our company culture and processes; essentially they needed me. I was excited about the opportunity and made the decision with my husband to move our family to Idaho."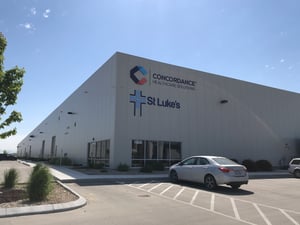 What benefits does our Nampa location provide?
"The one thing that makes us different is we provide choice. Specifically, for Idaho, we're also the only distributor based locally in the state. I love that we're based locally in Nampa, run by locals and support local businesses."
How does our Idaho facility contribute to Concordance's mission and vision?
"Our biggest contribution to the rest of the Concordance team is innovation. We do a lot of project work that we don't do at other DCs. We work on enhancing and adding to our programs and solutions such as C Vision and HomeShip. The plan is to refine these programs so they can be used throughout our network of nationwide DCs."
How do we uphold our company values?
"It was very important that the overall Concordance company culture was transplanted here through people like myself. Our biggest stronghold is our customer-centric mindset, which is largely appreciated by our current customers in the area. We have a strong team culture and part of that comes from being in a different time zone than most of our other locations. Our unique local culture is internally strengthened by our small but dedicated staff."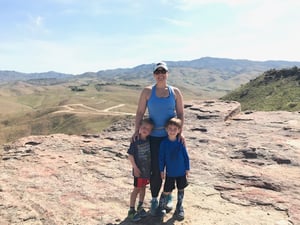 What is your favorite part about the local community?
"On the regional level, cities in the Treasure Valley such as Boise, Nampa and Meridian have such a great culture dedicated to the outdoors. From biking, hiking and rafting, I love how much people here enjoy nature from the mountains to the rivers and more. Also, the "Ida-home" sentiment is really something. I see it all around from a local arts festival to the Concordance office and warehouse. People are migrating here and making this home just like me."
What is your favorite part about the Concordance team, both in Idaho and throughout the country?
"I love the sense of closeness and teamwork the Nampa team exemplifies. We're all in the trenches together doing everything we can in support of our customer needs. Overall, the entire Concordance team is incredibly supportive, whether in Nampa, Tiffin or any of our other offices and DCs. Everyone has a willingness to support each other to help us best serve our customers. There's also a generosity in sharing knowledge and providing mentorship that I think is really unique and amazing."
At Concordance Healthcare Solutions, we're dedicated to providing exemplary customer service as we service healthcare providers across the entire United States. Contact us for more information. We look forward to learning how we can help you!