Holiday traditions are practiced every year with our families, friends and even our colleagues. While these traditions appear differently to others, they're usually more similar than not. Most involve coming together and celebrating the holiday season in a variety of different ways. While Concordance may extend across the country, holiday traditions span the distance.
Each year during the holiday season, Concordance holds our annual Holiday Celebration and Employee Appreciation events at each location. These vary from place to place, but all involve a meal and employee recognition for years of service. Some locations also host multiple celebrations throughout the day to accommodate for all shifts. This tradition is practiced company wide, but across the different time zones there are other celebrations and traditions. We asked members of the Concordance family to share their favorite holiday traditions at home and in the office. Check out the festive responses below:
Chelsea Hofhines, Customer Impact Specialist – Nampa, Idaho
"My family and I all open Christmas pajamas every Christmas Eve and make homemade cinnamon rolls on Christmas morning."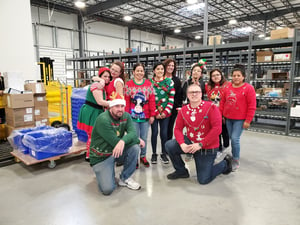 Cindy Mergen, VA Senior Advanced CS Specialist – Sioux Falls, South Dakota
"The gals at the Sioux Falls location host a 'Secret Santa' gift exchange. We gather at someone's home for a big reveal party. It's always a fun time and you never know what you will open up! We also always host an office potluck each year. This is a great time to taste amazing and different dishes while enjoying camaraderie among employees."
Don Wood, Operations Lead – Waukesha, Wisconsin
"On Christmas Eve, my wife and I like to make a pan of lasagna and watch National Lampoon's Christmas Vacation."
Gillian Walker, Bid & Quotes Coordinator – Earth City, Missouri
"After Halloween this year, as part of an unusual project, the Earth City location assisted an area elementary school participating in 'Treats for Troops'. A student approached the local VFW and presented his idea of participating in the program by collecting and donating leftover Halloween candy to the troops. The VFW agreed to help, assuming they would only be shipping a few bags of candy. However, the students were able to collect over 300 pounds of candy. As the VFW Auxiliary President, I presented the idea to Greg Benoist, Director of Distribution Operations. The candy needed to be shipped to Temple, Texas, so our Earth City team was able to send it to our team in Grand Prairie, Texas. The warehouse team in Grand Prairie agreed to help ship the candy to Temple. So, through unexpected kindness, Concordance was able to assist the students with their cause!"
Hazel Lehne, CS Specialist – Nampa, Idaho
"When my kids were small, our family would go to my parents' house on Christmas Eve and put on festive Christmas pajamas. The kids almost always fell asleep on the ride home and then we'd carry them to their beds all snug and warm."
Jim Strecher, Operations Manager – Waukesha, Wisconsin
"My family and I have gone to downtown Milwaukee to look at all of the Christmas lights for the last 15 years. We enjoy a nice big dinner, then take in the sights and stop for hot chocolate. Even now that my kids are older and in college, there is the expectation that everyone will set aside an evening for the lights. It wouldn't be the holiday season if we skipped this tradition."
Karina Jacobsson, CS Inventory Analyst – Riverside, California
"Growing up, my family would head to my grandparents' house on Christmas Eve every year, and the whole family would put on a play of the night Jesus was born. We would pick a role out of a hat and someone would even dress up as the north star! At the end of the night before all the kids went to sleep, we would leave out a bowl of porridge for the Tomte (from Swedish folklore), that would come and leave a gift in exchange for the porridge."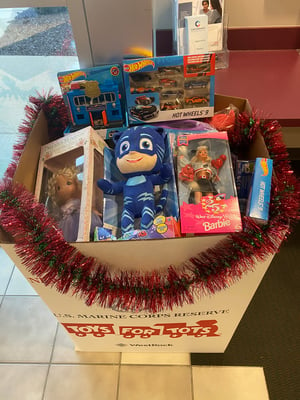 Kaylin Waltrip, Marketing Manager – Earth City, Missouri
"Each year, we hold a 'Toys for Tots' drive. The holidays are a great time to give to those in need and we contribute to this mission through the toy drive. We enjoyed filling our donation box to the brim!"
Kim Gons, Regional CS Manager – Shelbyville, Indiana
"My husband and I live a pretty quiet life with our two dogs and cat. All four of our children are grown and have families of their own, but one tradition we always had while they were growing up and continue today, is making our traditional Candied Fruit Roll, a tradition passed on by my mother-in-law. Whenever possible, my husband and I also enjoy visiting Indianapolis for the Circle Center of Lights on Christmas Eve. It's a beautiful display of lights and we take our dogs and walk around the town center. There is something so peaceful in hearing live saxophone Christmas tunes and seeing people enjoying carriage rides or attending their favorite church service late in the evening."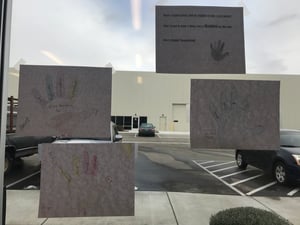 Nampa, Idaho Warehouse
"Our Nampa warehouse holiday tradition is turkey gratitude hands. We host a Thanksgiving potluck where team members make turkey hands listing all the things they're grateful for."
Riverside, California Warehouse
"Last year for our first holiday celebration at the Riverside warehouse, we picked a day for everyone in the office to decorate and enjoy holiday music. We also had each employee bring in one ornament from home to hang on the Christmas tree. We included a prize raffle the day of our holiday luncheon and handed out employee recognition awards for each department."
Sonya Kimmet, Director Supply Chain Services – Nampa, Idaho
"Our kids receive Christmas pajamas when we put up the tree so they can wear them throughout the holiday season!"
Concordance Healthcare Solutions supports those who continue to provide quality care, even around the holidays. Because we know healthcare never stops, we never stop helping. Contact us to learn more about how we can help you this holiday season and all year round.