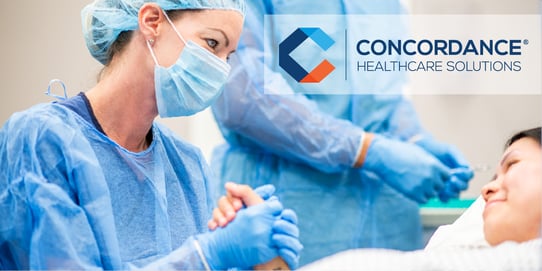 COVID Supply in a Hotspot - A View from the Northeast
Distributors provide the products needed for healthcare professionals to treat patients every single day; from the testing swabs and patient gowns, to the fluids, IV tubing, ventilator circuits, protective equipment for their healthcare providers and the thousands of other items required to provide quality care to each person in need. With the pandemic increasing the demand for personal protective equipment (PPE) products and a variety of other items, the industry has taken on challenges like never before.
Expanding Care
With the large amount of COVID-19 cases in the Northeast, healthcare providers like Stony Brook University Hospital had to expand their capacity very quickly. Jamie Rockefeller, Director of Business Development & Regional Sales for Concordance, worked alongside Account Managers, Customer Service, Sourcing and the Supplier Relations team to assist this customer with each new bed and set-up.
"They went from a 640-bed hospital to over 1200 beds," Rockefeller explains. "They took over their university dorms and started converting them to patient rooms. Each day our team worked to ensure that when the next bed opened, they would have the products they needed and the ability to serve those patients safely and effectively."
Providing Proper PPE
There has been a sudden surge in consumption of the raw materials needed to manufacture isolation gowns and ear-loop masks as PPE has become mandatory both inside and outside of the healthcare community. With the majority of isolation gown production being done overseas, hospitals struggle to locate quality products within the U.S.
"Earlier this year, we had a facility that was desperate for gowns," remembers Rockefeller. "They had been told by their buying group to use garbage bags as gowns if needed – that's how desperate they were. And we just thought, no, we cannot allow them to wear garbage bags in order to stay safe."
Calling in the Customer Service and Sourcing teams, Concordance utilized its vast support system within the healthcare supply chain and were able to locate quality, isolation gowns for the customer. "What our team does is invaluable in order to make sure nurses and patients remain safe. Its more than just providing product," explains Rockefeller. "It's about providing the right product. Not just a gown or a mask, but the RIGHT gown and mask. There are thousands of products out there and a distributor has the knowledge, experience and relationships to ensure that each item is being sent to healthcare facilities for the proper usage and that it is the highest quality item. You aren't going to get that commitment from just anyone."
Taking Risks
On one hand, all sales professionals, Directors and Account Managers were pulled out of the field, they continue to support their health systems and doctors via digital resources, staying in constant contact and working tirelessly behind the scenes. On the other hand, warehouse employeesthroughout essential industries still go in to work every day because it is vital that they are on-site to complete their job functions. Rockefeller shares how "some of these folks were staying in hotels, working longer shifts, traveling in from other states to provide support to the hardest hit areas."
"It is just amazing and I will be eternally grateful for all the individuals that continue to risk their lives, trying to work in masks, while social distancing, to pick the products and provide what our customers and their patients need," he continues. "These workers – shipping, receiving, the warehouse supervisors, drivers, everyone – they are saving lives every single day. Without them, all of this comes to a grinding halt. They are heroes."
A Personal Note
"My sister is a nurse at one of the largest and hardest-hit facilities in northern New Jersey. They had over 1,400 different patients come through with COVID-19. And when I think about what we do here at Concordance, it reminds me that I'm keeping her and her fellow coworkers and friends safe," confides Rockefeller. "Of course, with the extreme exposure risks that these individuals were facing, some did end up testing positive for COVID-19, which just amplifies the importance of the products we provide. We were able to get them what was needed for treatment and recovery."
The Future
Healthcare distributors continue to explore new avenues to source vital products from around the globe, but many of these are reliant on the circumstances in other countries. For example, the widely used N95 mask is produced in China. With the onset of COVID-19, many Asian ports were closed, production shut down and mining for raw materials was halted due to mandatory quarantines, all while the product was being sold at record highs.
"This is not a situation that the manufacturers can recover from overnight. The stock was being depleted while, at the same time, there were large breaks in production," explains Rockefeller. "We are all reliant on each other and how things are proceeding in areas around the world." He concludes, saying, "this is not just a United States issue. This is not just a North American issue. This is a world issue."
At Concordance, our Sourcing and Supplier Relations teams continue to search for and vet new product sources across the globe to help ensure that we have the products our customers need to save lives.