August 30 is National Grief Day in the United States; a day set aside specifically to recognize the time it takes to heal from loss and also a reminder that closure comes in many forms. Healthcare providers, such as hospice or palliative care providers, offer counseling to aid in the healing process for those that lose loved ones through terminal illnesses. From individual counseling to family, teen and child counseling, hospice and palliative care providers support bereavement and grief recovery by helping patients understand and process grief after the loss of a loved one.
Surviving Loss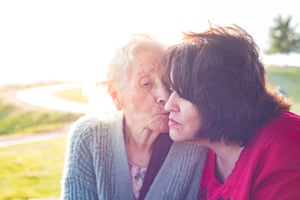 Losing someone we love is one of the most common and difficult experiences for humankind. The resulting grief is a disconcerting topic and often times, the emotional wounds left behind take time to heal. Discussing grief can be uncomfortable and increase feelings of vulnerability, whether it be the grief you feel or someone else's. Moving forward after the loss of a loved one can be difficult for family since grief doesn't happen in a vacuum, it is mixed with other emotions, life events, future plans and obligations. Grief is a unique experience for everyone, because our relationships, perceptions and personalities all differ. However, while we all grieve differently, there are distinct similarities in the way we heal from grief.
There are commonly five distinct stages of grief: denial, anger, bargaining, depression and acceptance. While this common outline can give some individuals comfort or sense of expectation, these stages don't always occur consecutively and may take years to work through. Some find it better to approach grief as an experience like a long flight; a bumpy take off, a mix of clear air and turbulence, lots of food for comfort, all followed by a smooth or rocky landing in a new place.
Grief varies from person to person, as well as from each individual loss. Some individuals grieve intensely right away, some grieve at the funeral or in private, while others may have prolonged experiences over the course of several weeks, months or years. Understanding your grief and the stages associated with the healing process and thinking of grief as a journey can help individuals set realistic expectations for their recovery; however, for those that experience intense grief or prolonged feelings of extreme loss, it is very helpful to reach out to friends, family and healthcare professionals to assist with the healing process. While we all grieve and feel things differently, the support of others can make the process more bearable and can lead to a stronger sense of closure when that time comes.
Grief Therapy
Hospice bereavement and palliative care counseling can assist a patient's family to cope with the grief they have associated with the loss of their loved one. These sessions first begin with an initial assessment of family members, their relationships, needs and strengths. Sessions can continue for a number of months with the hospice and palliative care counselors helping the family reach the goal of acceptance and closure. Healthcare providers are highly trained to offer families support, often following individualized care plans designed to address a variety of grief symptoms including:
Cultural, religious or social issues
Emotional responses to grief such as anger or depression
Physical grief responses such as fatigue and difficulty sleeping
Providing Support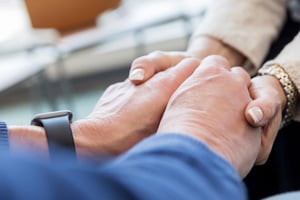 Staff time spent with patients and their loved ones is an essential component of hospice and palliative organizations, with caregivers bringing comfort to families as they deal with the difficult emotions that accompany end-of-life scenarios. In addition to providing the emotional support to patients and families, these facilities also attend to the patient's medical, physical and psychological needs, while simultaneously juggling other important hospice considerations and responsibilities. From handling paperwork to keeping track of the ever-changing cost of care, constant choices have to be made between the amount of time allocated to each patient and the completion of administrative and supply chain oriented tasks.
While time and dedication to a patient's bedside and family takes precedence over some administrative duties, this can become a serious problem when supplies aren't ordered or patient records aren't managed accordingly. Distributors, like Concordance, want to ensure that hospice caregivers don't lose the valuable time spent with patients and their families, tending to menial tasks like product ordering. Concordance has years of experience partnering with hospice organizations and recognizes the important work of hospice and palliative care providers, not only for the patients they serve, but also for grieving families that they help guide through the process of loss.
Our passion is providing the medical supplies that hospice and palliative care facilities and providers need. Our dedicated hospice team embraces a patient/caregiver-centered philosophy of care, taking the time to fully understand your goals, your mission and your needs so that we can offer the products and solutions that fit your unique organization. The hospice team acts as consultants, delivering the necessary hospice supplies and technology to staff so they can continue to provide patients with the best comfort in the final stages of life and help their grieving families cope. Contact us today to learn how we can help you.