This week, Concordance Healthcare Solutions is embarking on another adventure. Through the hard work and commitment of our team, we are pleased to announce the opening of our newest distribution location in Riverside, California.
Concordance is dedicated to bringing customized solutions to healthcare providers throughout the country in an effort to create the most efficient, streamlined supply chain possible. As we continue to step into new geographies, our focus remains on collaborating with our suppliers and industry partners to meet the needs of our customers and the communities they serve.
About Our Expansions
Concordance currently has 19 distribution centers serving the healthcare industry across the United States. Through these locations, we are able to provide supply chain services to the entire continuum of healthcare including health systems and hospitals, long term care facilities, home care and hospice agencies, government, ambulatory surgery centers, primary care physicians, community health centers and EMS teams.
Riverside, our newest location, is a 125,000-square-foot distribution facility located east of Los Angeles in the Inland Empire region of southern California. We're excited about our immediate success and customer attention. We're looking forward to assisting a large portion of healthcare providers with their supply chain needs.
Prior to Riverside, Concordance expanded into a new facility in Nampa, Idaho in December of 2017. This 90,000-square-foot facility provided us the ability to serve the upper northwest region of the United States. Nampa is located in the Treasure Valley region of Idaho near Boise. Our Idaho team has established a presence in the area and appreciates the warm welcome and support that we've received by our customers and local communities.
Why We're Here
According to Roger Benz, Co-President and CEO, there are multiple reasons Concordance is focusing on expanding its current footprint. "We see a real need to partner with health systems by offering customized distribution services that enable the providers to focus on patient outcomes. We offer a common-sense approach when servicing our customers; an approach anchored by service excellence, integrity and transparency.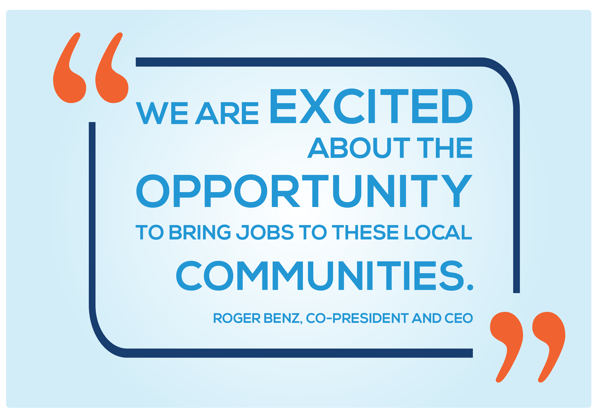 In addition to providing customized supply chain solutions, we are excited about the opportunity to bring jobs to these local communities. Our team of 1,100 employees is dedicated to doing what it takes to deliver exceptional service to our customers. This has been the focus of our foundation and remains our focus today."
Dave Myers, Chief Operating Officer, recognizes the partnerships and people that make this growth possible. "I want to take a moment to say thank you to our dedicated customers, employees, suppliers and industry partners for helping make this all possible. Without the support of these amazing groups of people, we would not be able to do what we do.
We have strong relationships with our suppliers and industry partners and will continue to be the optimal channel to bring their products and innovation to our customers. By working together, we can increase patient outcomes and ultimately save lives by having the right products available when patients need them."
What's Next
Unlike George Strait, the King of Country, we will not be in "Amarillo by morning." But, Concordance will be in Texas soon. Located in the Dallas regional area, Grand Prairie will be home to Concordance's next distribution center. We look forward to serving this community and are excited to bring our supply chain services to healthcare providers throughout the Lone Star State beginning in the third quarter of 2018.
As one of the largest, independent healthcare distributors in the United States, Concordance Healthcare Solutions continues to focus on being a partner that provides efficient and customized supply chain solutions. To learn more, visit our website or click here for a map of our locations.