At Concordance Healthcare Solutions, we believe in the strength of each individual and value the unique attributes each employee brings to our team. Equal access and equal opportunity are a vital part of what makes our organization successful. We excel by supporting individual differences, individual experiences and individual ways of thinking. Each fresh outlook gives us another avenue of ideas and solutions to discover and explore while supporting our employees' personal growth.
What does this passion look like in practice? Through the dedication of employees like Matt Spencer, who works as a Custom Item Kit Builder in our Tiffin, Ohio, warehouse. Matt was hired through a partnership with Opportunities for Ohioans with Disabilities (OOD). This agency works with Ohioans with disabilities to achieve quality employment and independence. Follow along below as Matt takes us through a day in his shoes: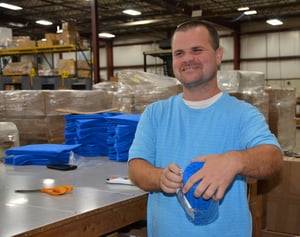 5:15 a.m.
My alarm goes off about a quarter after 5:00 a.m. and I start to get ready. I'm not a breakfast person so usually I'm pretty quick at brushing my teeth, getting dressed and heading out the door. I'm lucky that I have a short and smooth morning commute without any traffic stops.
7:00 a.m.
I arrive at work just before 7:00 a.m. I've been with Concordance almost a year now and I love the nice people here. After I clock in, I start my day by checking the orders placed on my shelves and get to work.
10:30 a.m.
A typical day for me is spent building kits and pulling supplies. I'm on my feet most of the day, but it depends on what tasks I have ahead. I sit down and meet with some of my coworkers regularly.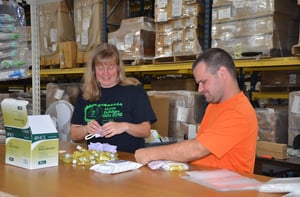 12:00 p.m.
Lunch for me is short and sweet and I usually grab something from our vending machines or bring a frozen meal from home. I like to take a minute to sit down and enjoy my lunch in the break room with other coworkers.
1:15 p.m.
I try to do my best to bring value to our company mission, vision and values by being a team player and always doing what is asked of me. While I love my independent tasks, I also love the collaborative environment. I'm part of a kit building team and we all work well together. Something I love about my role at Concordance is the opportunity to be part of a team and to earn an income.
2:00 p.m.
As my day starts to wind down, I make sure to clean up my area. Safety is an important topic in the warehouse and I'm happy to do my part.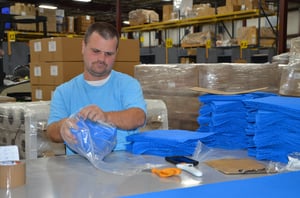 3:03 p.m.
I clock out around 3:00 p.m. and head straight home. After work, I like to play football and I'm also involved in other community activities here in Tiffin, Ohio. I have dinner with my family before spending time on my fantasy football team or playing PS4 games until it's time for bed.
At Concordance Healthcare Solutions, every position contributes not only to our success, but to that of our supplier partners and customers across the entire continuum of care too. As we continue to grow, we have a wide variety of career opportunities. Guided by our culture of commitment, we aim to provide our employees with challenges and opportunities to advance in their career and as individuals. Visit our careers page to learn more about our available professional opportunities.