Partnering with healthcare providers and suppliers, Concordance Healthcare Solutions delivers innovative and dynamic supply chain solutions to the entire healthcare continuum; seeking to improve the patient experience and the health of the population while reducing the cost of care.
How do we make this mission come to life? Through the dedication of our employees across the country, such as Steven Grimble, who works as a Receiving Supervisor in our Riverside, California, distribution center. Follow along below as Steven takes us through a day in his shoes:
3:30 a.m.
My alarm goes off every day at 3:30 a.m. Yes, it's early, but I enjoy my quiet mornings. We've got two dogs at home; Bug, named after his chihuahua bug eyes and Couyon, which means "crazy" in Cajun. I let the dogs out and I grab a light breakfast (some orange juice or coffee for the road), and I prepare to start my day. I peek in on both of the kid's rooms - I've got two boys, Tanner and Nixon – and after I check on them, I'm off to work.
4:30 a.m.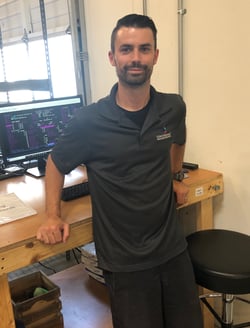 I arrive at work at 4:30 a.m. and immediately begin to get everything ready for the day in receiving. I have been with Concordance just over a year so I have developed a routine for the morning processes. Reading emails, checking our appointment log, printing equipment check-out sheets and checking reports on VAI is where I start.
6:00 a.m.
Team meetings are a great tool that I utilize to go over opportunities that we have as a department. I'm lucky to have such a great team that is dedicated to finding better ways to service the customer every day. Today, our meeting included reminding the put-away team to stack product safely and to always keep the order picker in mind. "Be safe, be accurate and be productive" is always the message behind each morning's meeting.
10:00 a.m.
Today I worked on creating our Weekly Safety Topic. Safety has been top priority since we opened in Riverside and we have implemented a safety bulletin board and binder that are dedicated to passing safety information on to our employees. Every week I create a new topic related to recent incidents that have occurred. This week our education topic was "spills and safe clean-up".
11:30 a.m.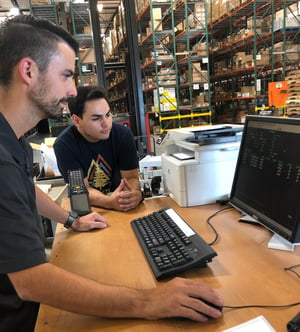 One thing I love about my role at Concordance is that it's multifaceted; from picking STAT orders to preparing for the ACS business in Riverside, my days vary and it keeps my job interesting. I take pride in keeping a clean, organized area and a safe work environment for all employees.
2:30 p.m.
The last of my employees are leaving and I begin to finish up my day around 2:30p.m. I use this time to answer remaining emails, ensure my daily reports on VAI are clear, send my pass-down email to the other leaders in the building and tie up any loose ends from the day's shift.
3:22 p.m.
I leave for the day knowing that I worked hard towards accomplishing the goals we have set as a department and as a company. After work, I pick up my two boys from school. My wife, Katie, is a principal at a middle school and also a great cook, but on nights when she has to work late, I cook dinner for the family when we arrive home. We recently bought a new house so most of my free time in the evenings has gone to decorating, building furniture and painting. Finally, to end my day, I give the boys a bath and we read a book together before bed.
Concordance Healthcare Solutions is one of the largest, independent healthcare distributors in the United States. Every position contributes to our success as well as the success of our supplier partners and customers across the entire continuum of care.
As we continue to expand our services, solutions and geography, we have a wide variety of career opportunities from sales and customer service specialists to logistics professionals, financial analysts, warehouse personnel and more! We offer a culture of commitment; a commitment to helping our employees advance in their career and as an individual. Visit our careers page to learn more about our available professional opportunities.