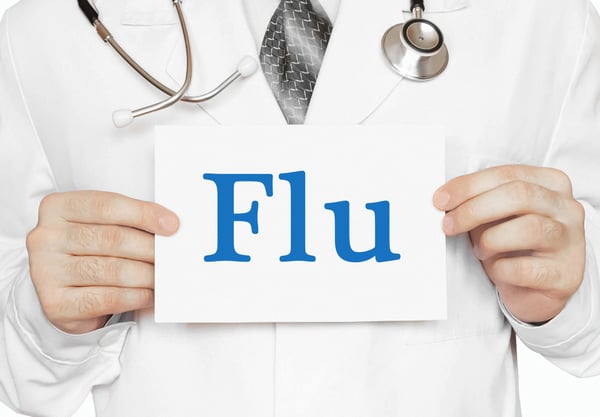 While this time of year is typically about self-reflection and reinvention, one thing that hasn't changed is the need to protect against and treat influenza. The 2019-2020 flu season intensified earlier than usual with higher than normal flu activity for several consecutive weeks at the end of 2019. According to data from the Centers for Disease Control and Prevention (CDC), the 2019-2020 flu season started spreading in the western and southern regions of the U.S. during weeks 44-48 of 2019 and further intensified throughout the month of December. Typically, flu season reaches its peak in February. The holidays can exacerbate the spread of the flu with millions of Americans traveling cross country to see family and friends.
Concordance stocks up on flu supplies including point of care (POC) flu tests, face masks, hygiene and sanitization products, needles and more. Due to seasonality, we make sure our customers are always prepared with the supplies they need to prevent, diagnose and treat the flu and other seasonal respiratory illnesses.
2019-2020 Season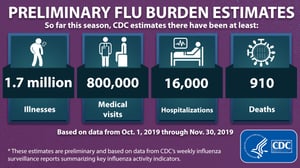 Every year, the CDC and other healthcare providers remind the general public of important preventative measures: get a flu vaccine, wash your hands and stay home if you're sick. According to CDC estimates from October-November 2019, 1.7 million flu illnesses were reported in the U.S. leading to 800,000 flu medical visits and 16,000 flu related hospitalizations. What is particularly unique about this year's flu season is that it intensified earlier than usual and is being driven by influenza B strains typically seen towards the end of flu season.
The groups that suffer the most are infants and children under 5 years of age and adults over 65. The CDC recommends flu immunization for those aged 6 months and older, especially for those that fall within these high-risk groups.
Distribution
Healthcare distributors, like Concordance, see a different side of the flu equation, with the primary focus of supplying hospitals and other care providers with the necessary supplies for flu prevention, diagnosis and treatment. Distributors manage the need for supplies such as:
Test kits
Face masks
Flu treatments
Vaccination tools
Sanitization products
Extreme care is taken to safeguard the uninterrupted delivery of these necessary supplies and Concordance works hard to ensure that our customers are provided with the supplies they need, when they need them.
Concordance Cares
As we approach the middle of flu season, healthcare providers need products for diagnosing and treating patients suffering from the flu, as opposed to products needed to administer flu vaccinations which are the primary focus at the beginning of flu season. Concordance, and other distributors like us, put a lot of care into our unique supplier relationships allowing us to support healthcare providers with the products they need to give the best possible care.
During this time of year, Concordance is prepared for the influx in demand for flu products. With an experienced team and access to thousands of suppliers, we can provide the supplies you need to fight the flu.