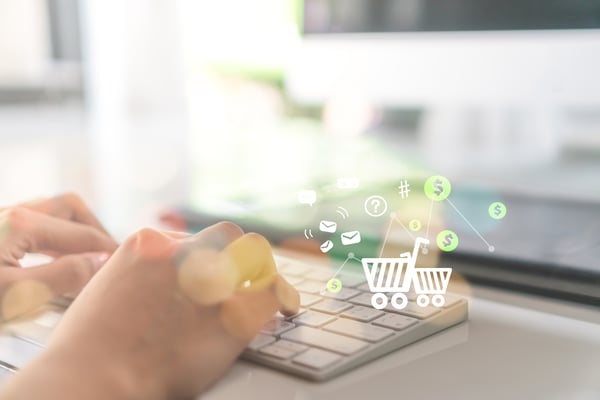 It's an e-commerce era. However, when goods purchased via e-commerce begin to include healthcare products, often used for home care, and durable medical equipment (DME), healthcare providers and patient-consumers can instead receive counterfeit items putting patients at risk. According to the Federal News Network, when people shop online in what they think is the safety of their homes on e-commerce platforms such as Amazon, E-Bay or Walmart.com, they have an unacceptably high risk of being defrauded or even harmed.
These concerns aren't about any one e-commerce platform. Inferior products sold on e-commerce include anything from the recent surge of N95 respirator masks, to tainted food, dangerous electronics, and deadly substances like fentanyl which can appear in fake prescription opioids. What's being sold on the internet aren't necessarily "goods" in a lot of cases — but rather "bads" as stated by White House trade adviser Peter Navarro. E-commerce platforms operate in a class all their own that subsequently impacts consumers and most alarmingly healthcare patients.
So how can your healthcare organization protect against these concerns? Below are some important considerations and ideas you may find helpful:
Know who you're buying from – E-commerce giants sell to the masses. Healthcare distributors, like Concordance, sell to healthcare professionals and providers. Knowing who you're buying from and having a relationship with your account manager allows you to create a trusted partnership in support of patient safety and security.
A lasting relationship – By working with a distributor, you gain the flexibility as they monitor your regular orders and anticipate upcoming needs as well as make thoughtful product recommendations to further improve patient care. Healthcare distributors can help make purchasing your supply needs more efficient, providing the right products at the right time.
Contact convenience – With e-commerce purchases, you run the risk of not having direct contact with a seller. With a distributor, you have transparent easy access to knowledgeable customer service representatives as well as contact information, including email and phone number, to contact a real person with questions or concerns.
Safety & Security
Safety and security need to be at the forefront of the decision-making process when purchasing healthcare products. E-commerce sites may have healthcare products you're looking for, but these products can be counterfeit, inferior and even dangerous. Knowing who you're buying from, not just what you are buying, is key for protecting patients. Most recently in response to the Coronavirus outbreak, e-commerce sellers even began warning shoppers about counterfeit face masks as demands continue to soar in the wake of outbreak fears.
At this time, with the Coronavirus and subsequent product hoarding, counterfeit products will be showing up in the market now more than ever. This can have serious, if not deadly consequences to care providers and the general public as a whole. Healthcare distributors are important for the supply chain and play a crucial role in supporting safety and security, enabling the right quality products to reach the right patients at the right time, efficiently and transparently.
Transparency
Healthcare costs are a prime concern for providers and patients which can lead some to the savings allure of e-commerce. As the healthcare environment continues to evolve, it's important that it moves towards higher transparency standards. Patients deserve high quality products from trustworthy manufacturers. "Working with a reputable distributor, like Concordance, is of the utmost importance so that healthcare providers can verify the source and quality of the products they buy to ensure patient safety," Jaysen Stevenson, President – Government Division.
It's also about knowing where inventory is and how well components and products in transit can be tracked as they move from point A to point B. Visibility helps put transparency, and the learnings of, into motion.
Concordance Healthcare Solutions prides itself on having a comprehensive understanding of the products we sell, developing personal relationships with our customers, being flexible in our delivery options and having a variety of value-added solutions designed to enhance your bottom line.