You work in healthcare supply chain. You wear many hats. You often find yourself saying "WTF (where's the freight)?" If this sounds familiar, you are probably dealing with medical supply backorders.
As the healthcare industry continues to evolve rapidly, it is more important than ever for providers to have the right products for healthcare consumers where they need them. To make that happen, products need to move through the supply chain quickly and efficiently. This can be challenging because there are many touch points to get products from point of manufacture to point of use – and many touch points create multiple areas that can cause potential delay.
As a member of an internal team working on backorder management initiatives, I recall a conversation we were having about how our backorder process worked with different health systems. Throughout the conversation, we outlined gaps in the process but we also started identifying bright spots – areas where the health systems were doing things well. As we talked about how these bright spots could benefit others, it became clear that in order for us to make purposeful and impactful change, we needed to understand the process beyond the part that we influence. We needed to bring thought leaders together so we could understand the whole process.
Awareness through collaboration
Working with our Group Purchasing Organization (GPO) partner, Concordance created an initiative that brought thought leaders from multiple health systems together to collaborate on industry issues and process improvement. Through a Rapid Improvement Event, the collective team was able to analyze the current state of backorder management, identify gaps and develop an ideal future state. Several themes emerged but a key takeaway was lack of awareness – a lack of understanding of what really happens when a backorder occurs.
We found that the teams involved in moving a product along the supply chain, from point of manufacture to point of use, were not aware of the impact that a delay can have internally for each team. This was due in large part because there wasn't a clear idea of what all the points of contribution along the supply chain had to do to get the product to the next point. Everyone understands their part, but there is little effort to look at the entire process and understand how each action effects another.
I recently used a swim lane analogy to educate our team on the movement of a product through the supply chain and to bring awareness to the impact a backorder can create.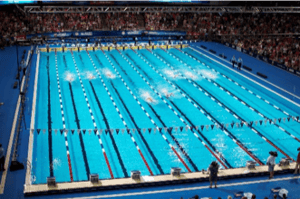 When we look at the picture from this viewpoint, we can clearly see all the lanes. But when we're in our swim lane doing our work, we're concentrating on what we need to do in that swim lane. If I'm in the middle lane – in distribution - that's what I am focused on. I may notice what's going on in the lane on either side of me and maybe occasionally I see what's going on in the lane beside that. However, I have little idea what's going on in the far left lane (point of manufacture) or the far right lane (point of use). I need to focus on my lane and the job I need to do in that lane. I need to do my part.
Still, we have to get product from point of manufacture, to point of use, in the most efficient way possible. All the lanes need to work together. We need to understand how each lane effects the other in order to truly make a positive impact in the process.
Understanding the impact
As we worked through the backorder process, we did a deep dive into the impact that each backordered item had for the distribution channel and throughout the health system. What we found was that the impact is far greater internally for each point of the process than the other parties realized.
Rose Jensen, Director of Supply Chain Management and Value Analysis, University of Tennessee Medical Center (UTMC), used an example of a recent backorder situation and the suggested alternative product to help us understand just how complicated the process can be and how much each backorder impacts the health system.
Jensen described the process like this:
"The health system was backordered a pre-filled saline flush. The substitution that was offered was a vial of saline and a syringe and our clinicians would manually prepare the flush.
Technically, this is an acceptable substitution. We took the items through the substitution process – taking inventory of all the original item throughout the health system to determine when we would run out, reviewing pricing and contract eligibility on the alternate item, setting up a new item number for the alternate and marking bins throughout the hospital.
We then took the item to the nursing leadership to inform the clinicians of the change. What we found is that the millennial nurses have always used the pre-filled flush. It's not that they can't prepare the manual flush, because they can. It's that they haven't been trained to do so at our health system.
Remember, this is a sub for a backordered item so we are acting in reactionary mode. We now have to make sure that all the nursing team has been trained on the new process prior to running out of the pre-filled syringes in the following days."
As Jensen explained, a backordered product causes many issues that we don't even think about – and this is with every team involved – the health system, the distributor, the GPO and the manufacturer and supplier.
Where do we start?
As we continue to collaborate as an industry, we can start looking at all the swim lanes and understanding how they work together. While we likely won't eliminate backorders entirely, if we can get the right information to the health systems quicker, we can minimize the impact that a backorder will have.
By focusing on ways to proactively share information, we can be prepared when a backorder occurs. This may require us to change the way we tackle backorders today. Ron Collins, VP, Supply Chain, UTMC, states "I am relying on the manufacturer to be the product expert. I'm expecting the sales rep to give me a substitution, even if it's the competitor's product. I understand they may not want to suggest a competitive product, but I have to have product to take care of patients. I need them to help me get it." Collins elaborated that he views the manufacturers as partners, and even if his team has to use a competitive product to get through a backorder, he will resume using the primary product when it's available, provided that manufacturer has worked with him to alleviate the impact. By working together, we can ultimately take care of patients and everyone wins.
Multiple industry initiatives have been created to address backorder management. Recently, Health Industry Distributors Association (HIDA) held its first annual Supply Chain Visibility Conference that brought health systems, distributors, GPO's and suppliers together to discuss healthcare supply chain. While in attendance, it became clear that by coming together to share our collective expertise, we can work toward a process that minimizes delays and supports effective communication and information sharing.
The team members at Concordance Healthcare Solutions appreciate all the work being done to provide quality and efficient healthcare. We are dedicated to doing our part to create a supply chain that delivers the right products to the communities we serve.